The Five Guys Milkshake is the perfect addition to your Burger and Fries. A delicious vanilla base, to which you can add as many or as few of our 11 freshly made mix-ins as you like at no extra cost! You can even indulge in flavours from your favourite sweet treats such as Oreo®, Biscoff® and Reese's Peanut Butter Cups®.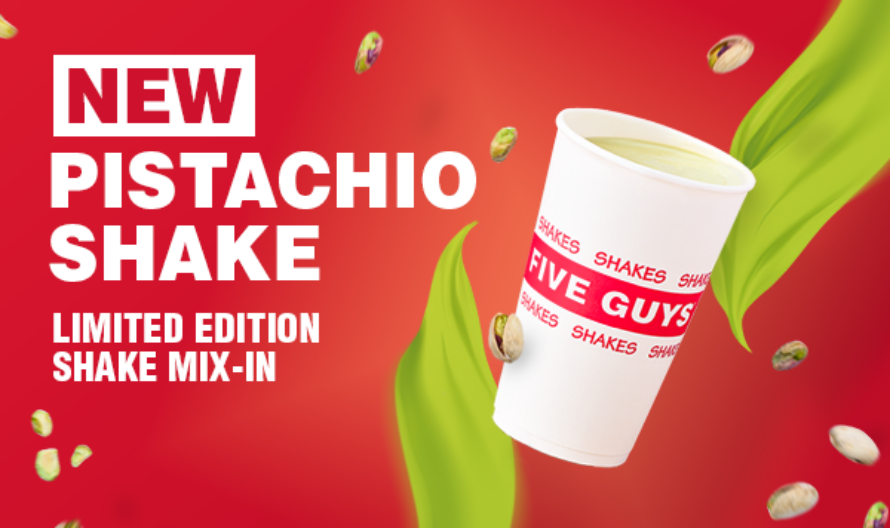 Pistachio Milkshake
The brand new, limited edition Pistachio Shake has arrived at Five Guys! Our smooth, creamy vanilla base, blended with earthy, rich pistachio makes for a perfectly balanced sweet treat that'll drive you nuts.
Menu
Our Milkshake mix-ins are Reese's Peanut Butter Cups®, Oreo®, Biscoff®, Chocolate, Vanilla, Strawberry, Banana, Salted Caramel, Peanut Butter, Pistachio and even Bacon! To check out our whole menu click below.
Milkshake Merch
For our Milkshake superfans, we have Milkshake Merch! From our Arlington 1986 Collection released in 2022, this T-Shirt is perfect to rock outside in the Summer sun or indoors whilst ordering Five Guys on Delivery. Click the pic of our crew member, Maki, modelling the shirt to buy your own, or check out the full merch collections currently available.