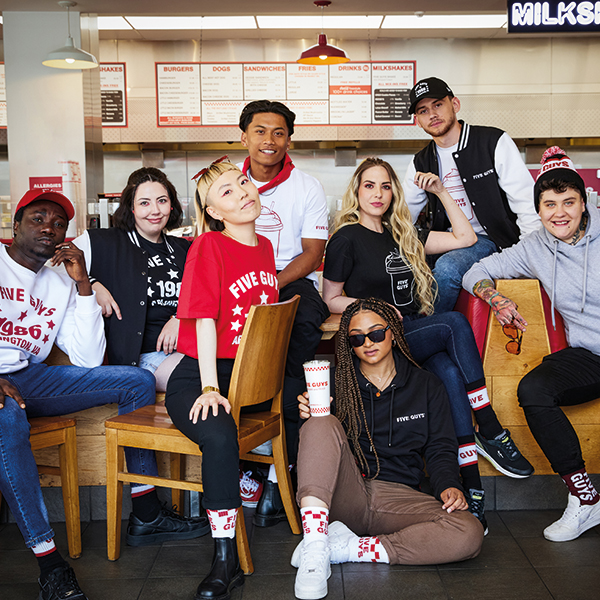 FIVE GUYS MERCH STORE
Now you can enjoy your Burgers & Fries in style, with our new collection of branded clothing and accessories. Pieces range from an embroidered Varsity Jacket, graphic T-Shirts and bespoke Caps & Socks.
Just like Five Guys' Burgers & Fries, the quality hasn't been compromised, all pieces have been careful curated with comfort, quality and durability in mind.
Arlington 1986 Range
Jerry and Janie Murrell gave their five sons a choice, "Start a business or go to college?"
The business route won and the family opened the first Five Guys in Arlington, Virginia in 1986 – named after the five brothers.
SHOUT OUT TO OUR CREW!
All the models starring in our Merch photos are real Five Guys crew, who spent the day doing something a little different to cooking up your burgers and fries.
Check out the behind the scenes video of the photoshoot below, or on our TikTok & Instagram!
These 8 individuals from across the UK, travelled to join us in our London Piccadilly Circus restaurant for a spectacular photoshoot, highlighting our new collection of merchandise.
The day started with hair & make up by the amazing hair stylist Sandra Hahnel and professional makeup artist Brooke Simons. Together, they created unique looks for all our our models, whilst still ensuring it kept to their individual personalities.
Once ready, it was time for the main event, with fashion photographer Andrew Grimes and assistant Maciek Wojciechowski, who captured all of the amazing shots of our 8 models inside our flagship London restaurant, before taking them out to the heart of London's West End.
We're so thrilled to have worked with such an amazing team of talented people to launch our first range of merchandise for our fans.